Sleep culture is at the core of this international brand, merging artisan knowledge, industrial logic and passion for detail. Bolzan research projects are developed by a high quality product policy that uses natural, recyclable and certified materials.
12.09.2023
Zanellato/Bortotto design curator of Bolzan
Zanellato/Bortotto design curator for Bolzan
ph Omar Sartor
Bolzan assigns the position of design curator to Giorgia Zanellato and Daniele Bortotto to cover an entirely new position within the company: a strategic choice to consolidate a design-oriented path and to develop and enhance Bolzan's identity.
17.05.2023
Forged iron for the Bend-e bed by Bolzan by Zanellato/Bortotto
Bolzan Bend-e by Zanellato/Bortotto
ph Omar Sartor
A bed with a strong craftsmanship matrix, which brings the ancient workmanship of wrought iron into the world of design and enhances it with the fabric of a manufacture with a centuries-old history. Bend-e by Zanellato/Bortotto is the re-edition of Bend, a classic from the Bolzan catalogue.
05.04.2023
The new Bolzan space in Milan
The new Bolzan space in Milan
During the Milan Design Week 2023, Bolzan opens its first showroom in Milan, at Via Mercato 3, with the installation "Dreams in progress" by Zanellato/Bortotto
30.03.2023
Bedtime stories: Finemateria x Bolzan
Bolzan + Finemateria, Bedtime stories
In girum imus nocte: a research that has the bed as the protagonist, conceived and created by Finemateria for Bolzan.
24.11.2022
Bolzan awarded with Archiproducts Design Award 2022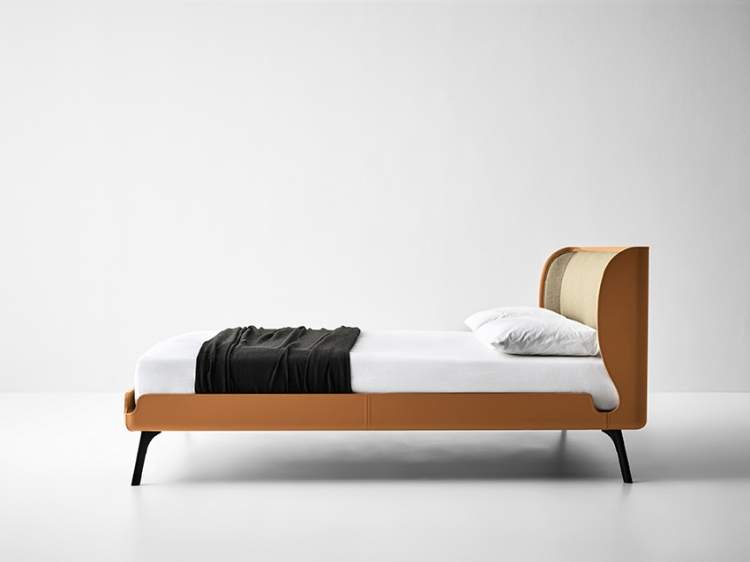 The ADA 2022 Jury chose to award Gabri bed designed by Matteo Zorzenoni for Bolzan for the quality and values ​​that the project interprets, expression of the encounter between design and craftsmanship. A bed with a strong manufacturing imprint that enhances the company's artisan vocation and the centrality of the leather upholstery.
26.09.2022
Bolzan in EDIT Napoli
Bolzan to Edit Napoli
From 7 to 9 October, BOLZAN presents at EDIT Napoli its project dedicated to beauty, ecology and attention to waste.
08.09.2022
Bolzan: The Ecology of Design
New Jack, design Zanellato/Bortotto
ph Omar Sartor
Beauty, ecology, sustainability: Jack, the bed designed by Zanellato/Bortotto for Bolzan is reborn through craftsmanship and attention to the environment, telling the stories of some of the best manufacturers in the area.
22.06.2022
More than a bed...
Marty | design: studio e.ggs
At the Salone del Mobile 2022, Bolzan Letti presented Marty by Studio e-ggs, the result of a reflection on the new ways of contemporary living.
18.05.2022
BOLZAN, WHAT'S NEW?
Gabri | Design: Matteo Zorzenoni
ph Omar Sartor
At the Salone del Mobile 2022, Hall 10 - Stand C6, Bolzan Letti presents two new collections born from the collaboration with Matteo Zorzenoni and Studio e-ggs.
12.04.2022
Alpagota: the ethical blanket by Bolzan Letti
Bolzan Letti, in collaboration with the historic Lanificio Paoletti and the shepherds' cooperative Fardjma, takes part in a project of social responsibility, respect for the territory and recovery of local textile traditions. This is how was born the ALPAGOTA blanket, designed by ruga.perissinotto and produced with the wool of the sheep of Alpago, an endangered indigenous breed of the province of Belluno.
18.03.2022
Am I dreaming, or am I awake?
WORLD SLEEP DAY | 18 MARCH 2022 The combination of craftsmanship and industrial complexity together with the constant research for natural, recyclable and certified materials make Bolzan an international brand that, with its collections of high-quality beds, promotes forward-looking sleep and design culture.
05.09.2021
Bolzan Letti @supersalone
Bolzan Letti, supersalone invitation
The materials therefore become the protagonists of the space at the supersalone, where the company presents its latest novelties in beds and complements as well as a selection of new fine fabrics and a brand new catalogue exclusively dedicated to linens, thus narrating its essence and values. Pavilion 3 Gangway J22
L'azienda veneta lavora da più di 30 anni con grande competenza manifatturiera, innestando tecnologie di precisione su una tradizione famigliare di alto artigianato: Bolzan è autenticamente 100% Made in Italy, inteso come ricerca estetica e formale, scelta etica sui materiali, le finiture e i processi, impegno sulla qualità e la durata dei prodotti.
Gli elementi costruttivi sono accuratamente selezionati e sviluppati in un'ottica di resistenza, leggerezza, igiene, salubrità, soluzioni funzionali: un approccio che esprime il "saper fare" ma anche l'attenzione a tutti gli aspetti che concorrono alla definizione del prodotto, come il ciclo sostenibile che riduce al minimo gli scarti attraverso un processo di rigenerazione.