The innovative bike for the home fitness by Elite, one of the biggest players in the world in the accessories and indoor cycling technologies market, is the first product of a new brand it is a different take on sports activities: not only about athleticism, it is an actual lifestyle aimed at introducing beauty, elegance and formal simplicity values to Elite's consolidated experience.
07.06.2023
Fuoripista at Design Shanghai 2023
Fuoripista Bike at Design Shanghai 2023
From June 8-11, 2023 Fuoripista by Elite meets the Far East audience with its presence at Design Shanghai, one of the most prestigious international design events and the leading one in Asia, now in its 10th edition. The innovative stationary bike for indoor training designed by Adriano Design is on display in Shanghai in its two versions Natural Wood and Black.
03.04.2023
Fuoripista Bike: Hello Milan!
Fuoripista: Hello Milano
ph David Zanardi
Fuoripista Bike by Elite arrives in the city of Milan and takes center stage of the Design Show with two important events: La Rinascente Design Supermarket until May 2nd and Salone del Mobile (Hall 10 stnd F06)
14.11.2022
ELITE in ADI Design Index 2022
Rizer design Adriano Design
The slope simulator Rizer, designed by Adriano Design for Elite was selected in the ADI Design Index 2022 and competes for the next Compasso d'Oro.
17.10.2022
FUORIPISTA | The Bike everyone should have on their wishlist!
Fuoripista Bike by Elite, design Adriano Design
A special project that combines design, noble materials and technical performance. Fuoripista Bike by Elite, designed by Adriano Design, has revolutionised the world of indoor training.
30.05.2022
Fuoripista at the Salone 2022
Tuo | Design: Adriano Design
From 7 to 12 June, Fuoripista by Elite will exhibit at the Salone del Mobile in Hall 14 Stand B24 to present the collections developed with Adriano Design. These include the BIKE for indoor training, the TUO wheel-on roller and the RIZER slope simulator.
10.03.2022
Fuoripista: training on the peaks of Courmayeur
Fuoripista Bike per Courmayeur Design Weekend
From Thursday 10th to Sunday 13th March, on the occasion of the Courmayeur Design Weekend curated by Paola Silva Coronel together with the Municipality of Courmayeur, Fuoripista Bike will be present at Punta Helbronner/The Sky, the third and highest station of Skyway Monte Bianco.
05.09.2021
Fuoripista @supersalone
Fuoripista, supersalone invitation
Fuoripista Bike is then back in the spotlight during the world's most relevant design event, selected precisely because it's an "event" product that becomes a part of your daily life, perfect for home environment: a fitting choice since home settings have been used more and more to stay fit during this past year. Pavilion 3 Gangway N33
03.06.2021
TUO Fuoripista by Elite selected in ADI Design Index 2020
TUO, design Adriano Design
11.05.2021
Fuoripista Bike, outdoor training
Fuoripista Bike by Elite, design Adriano Design
ph Truetopia
Fuoripista Bike, for excellent outdoor training.
Fuoripista Bike proposes a totally new design compared to the typical formalities of sports equipment and speaks a new wellness and exercise language, inserting performance values into a sophisticated design approach with a strong aesthetic appeal: a furnishing asset that you can place indoors or outdoors (though always under a roof). The valuable, natural and sustainable materials and the particular silhouette compose a high-quality product, refined to the minutest details: it's an object to show off that ensures ergonomic solutions, cutting-edge technological contents and certified technical accuracy.
Fuoripista Bike, design Adriano Design
Thanks to the top notch functional features and indoor cycling's most technologically advanced equipment, it's possible to experiment with any type of training, at the same time monitoring all of your performance data and connect both to the virtual coach and to the community. This bike is designed to always fit perfectly as both the saddle and the handlebar are adjustable, so you can personalize it based on your body type and thus always maintain the proper posture while training. The Fuoripista Bike also employs a very quiet technology that makes it possible for you to pedal anytime and under any circumstance.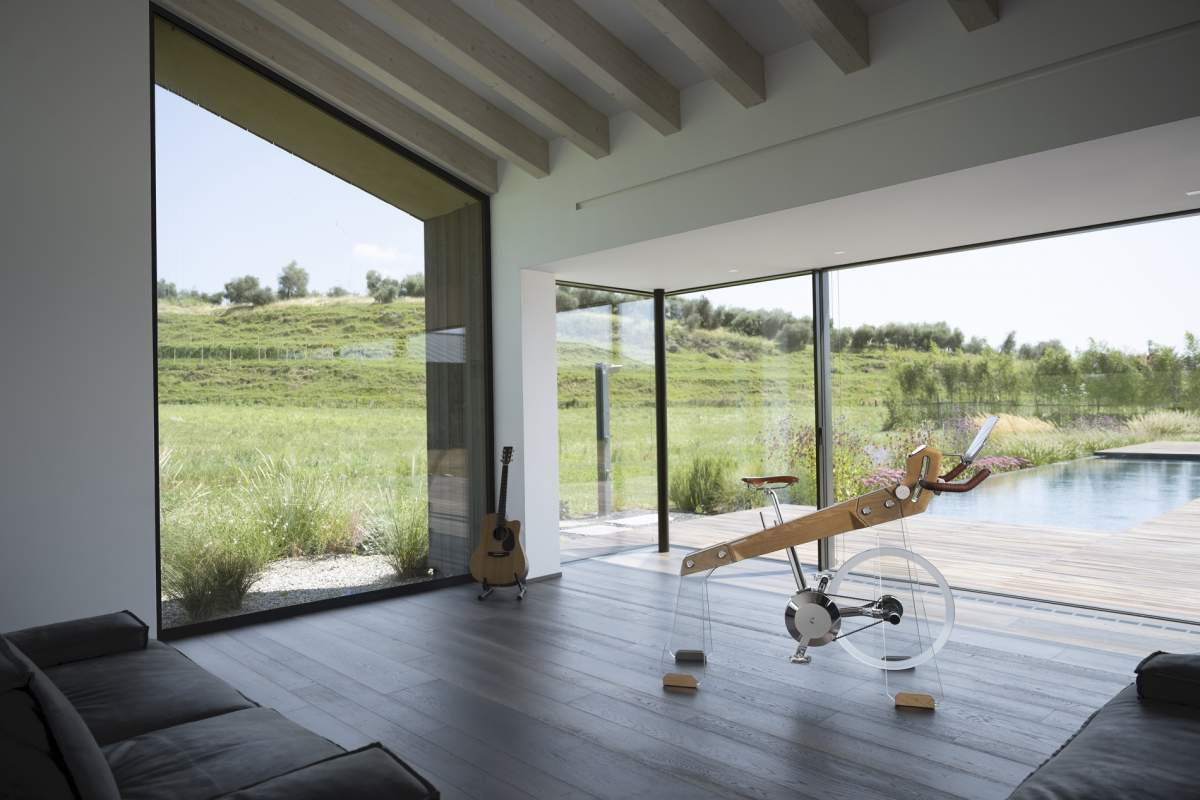 ph Riccardo Urnato