A transversal approach to functional typologies and market segments that focuses on relationships: between products and spaces, spaces and people, between people themselves. "Together" is the fil rouge that expresses Arper's values, which find their synthesis in a design that supports the versatility of essential forms.
Arper Spa
Via Lombardia 16
31050 Monastier
di Treviso (TV)
www.arper.com
29.08.2023
Arper furnishes the veranda of the Peggy Guggenheim Collection in Venice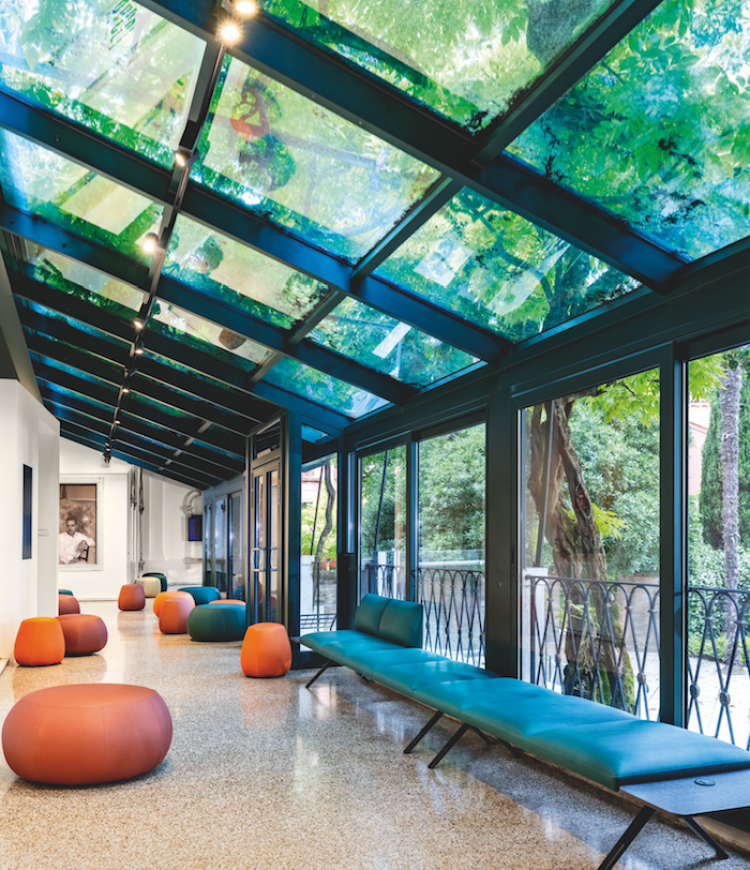 Arper veranda Peggy Guggenheim Venice
ph Matteo De Fina
Arper furnishes with its seating the renovated veranda space inside the palace that overlooks the Grand Canal and was long the home of Peggy Guggenheim. Flexible and comfortable furnishings were chosen for this project, featuring a color palette that would not constrain the arrangements but create harmony.
08.06.2023
Arper, born to be sustainable
Aava 02: born to be sustainable
Essentiality and efficiency come together in the chair designed in 2013 by Finnish designer Antti Kotilainen and now reissued in the new Aava02 version. Arper thus reveals its design philosophy to create simple, durable and timeless furniture that minimizes the use of materials and respects the environment.
06.06.2023
Arper @ 3daysofdesign | 7-9 June, Copenhagen
Arper@3daysofdesign
Arper is participating in 3daysofdesign in Copenhagen. The city nominated by UNESCO as The World Architecture Capital 2023 comes alive with the event dedicated to design, recognized as one of the most interesting international industry events and now in its 10th edition. Arper's latest collections will be on display at the Avlskarl Gallery - District: Odd Fellow Palæet.
28.03.2023
Ralik by Arper
Ralik, design by Ichiro Iwasaki x Arper
ph Salva Lopez
Ralik, the new modular seating and coffee table system designed by Ichiro Iwasaki for Arper, offers infinite solutions, reconfigurable over time, thanks to the quick and tool-free assembly system
02.02.2023
Arper's design at the Stockholm Furniture Fair
Arper, Stockholm Furniture Fair 2023
19.01.2023
Arper celebrates the 10th anniversary of the Bardi's Bowl Chair
Bardi's Bowl Chair, Casa de Vidro
ph Ruy Teixeira
Arper celebrates the 10th anniversary of the production of the iconic chair designed in 1951 by the Italo-Brasilian architect Lina Bo Bardi.
14.11.2022
ARPER in ADI Design Index 2022
Mixu, design in collaboration with Gensler
ph Salva Lopez
Arper's Kata and Mixu chairs, selected in the ADI Design Index 2022, compete for the next Compasso d'Oro. ADI Design Index publication and exhibition were presented today in Milan at the ADI Design Museum. The exhibition will remain open until 27 November and then move to Rome at the Treccani Institute from 13 to 18 December.
18.10.2022
Arper office in Colonia
On the occasion of Orgatec, the international exhibition dedicated to the office world, Arper opens the doors of its showroom at the Design Post in Cologne, to present to guests its renovated spaces and the collections of The Project of Living.
11.10.2022
Arper | The office never looked so good!
Aeeri, design Peter Kunz
Perception of spaces involves all the senses. Today offices have become work spaces designed to promote maximum efficiency and well-being of those who inhabit them. Arper, through its collections and the design philosophy of the objects, investigates new ways of meeting, sharing and using spaces.
29.09.22
Arper | The organic geometries of Ghia coffee tables
Ghia Collection | design Altherr Désile Park
Sculptural shapes, soft lines and natural colors characterize Ghia. In balance between organic and geometric shapes, these coffee tables introduce a warm and tactile aesthetic, in harmony with the Arper seating collections, mainly aimed at contract, but increasingly also at residential.
06.09.2022
Arper: The thinnest table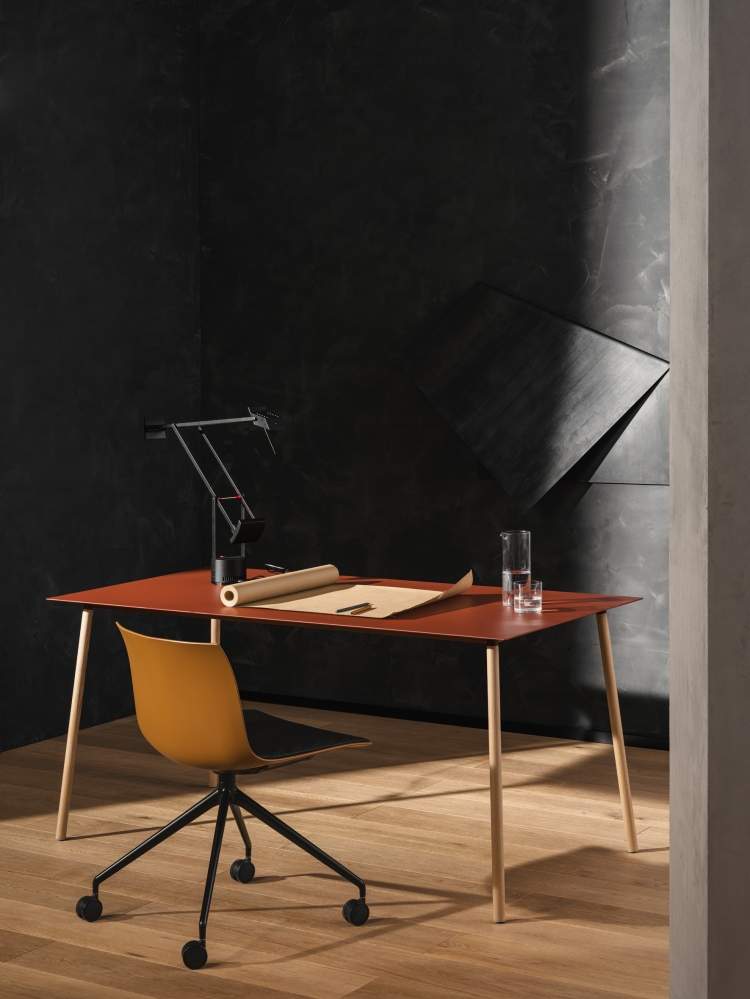 Aeeri, design Peter Kunz
ph Alga Studio
Presented at the Salone del Mobile 2022 as part of the The Project of Living, Aeeri is the new table designed by Swiss architect Peter Kunz for Arper. Monocoque construction inspired by high-tech engineering and origami technique, Aeeri is a slender and sculptural table, made with a single sheet of steel 1 mm thick, bent to create a rigid and resistant, stable even on uneven floors.
22.04.2022
World Earth Day | Arper: Design for Disassembly
For over 15 years, Arper has been strongly committed to putting sustainability at the heart of its projects, using recycled plastics and environmentally friendly practices, in order to allow the responsible disposal of all components of the product at end-of-life or to provide for partial replacement. The disassembly becomes therefore a fundamental aspect in the production process of the company and one of the key points to be included in the design.
03.03.2022
Breakfast on the grass with Arper
Organic shapes and natural palettes make these collections ideal for relaxing moments everywhere: at home and in the hotel, indoor and outdoor. They are the iconic Leaf, the innovative Kata and the elegant Adell.
24.02.2022
Working from home with Arper
MIXU chairs, design in collaboration with Gensler, 2021 and MEETY table, design Lievore Altherr Molina, 2016
In the last two years, finding a domestic space to work has become a real necessity and our homes have left room for hybrid and shared environments, dedicated to creation, work and projects organization. From chairs to work tables, here is a selection of Arper homeworking furniture.
02.12.2021
Arper Xmas cocktail 2021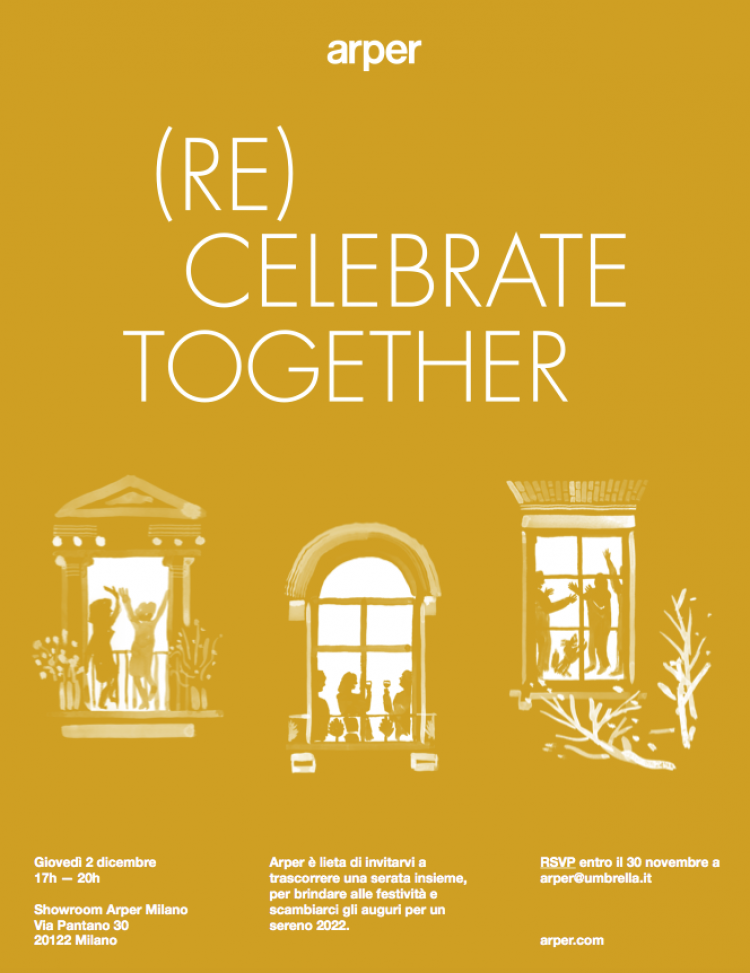 Arper Xmas cocktail 2021
Arper Xmas cocktail 2021 together with the Italian press at the Arper showroom in Milan.
20.09.2021
Arper MDW2021: news + supersalone + fuorisalone
Arper @ supersalone 2021
ph Giulio Ghirardi
05.09.2021
Arper @MilanDesignWeek2021
Arper, Milan Design Week 2021
The new Arper collections can be discovered visiting the booth at supersalone (Pavilion 4 | Hall D02) and the showroom in Via Pantano 30.
06.05.2021
Arper presents Mixu
Mixu by Arper, design Gensler, 2021
ph Salva Lopez
Mixu is a sustainable and versatile collection of chairs and stools that can be completely customized to suit the needs of any context, environment, or desire. This three-part system of seat, backrest, and base can be personalized with myriad color and texture combinations.
03.05.2021
Arper presents Kata
Kata by Arper, design Altherr Désile Park, 2021
ph Salva Lopez
Arper's first solid wood lounge chair, Kata takes inspiration from artisan-made wood and woven straw chairs and reimagines the near universal typology using contemporary, sustainable solutions in an expression that's both graphic and warm.
24.03.2021
Waiting for La Biennale in Venice with Lina Bo Bardi
Bardi's Bowl Chair, design Lina Bo Bardi, produced by Arper
ph Marco Covi
Waiting for La Biennale in Venice with Lina Bo Bardi and the Bardi's Bowl Chair by Arper
30.01.2021
Arper supports The World Around 2021
The World Around 2021
Arper supports The World Around 2021
12.01.2021
A new and innovative R&D area for Arper
Arper Design Lab, render
Negli Headquartes di Arper già avviate le opere per la realizzazione dell'Arper Design Lab, un nuovo polo di 1.700 mq dedicato alla progettazione, alla creatività e all'innovazione.
10.11.2020
Arper with Kvadrat/Raf Simons fabrics for the new collections
ARPER | Adell, Adell design Lievore + Altherr Désile Park
ph Salva Lopez
To mark the launch of its new 2020 collections, Adell and Aston Club, Arper selected four fabrics from the Kvadrat/Raf Simons collection. The proposals will be included in the new lounge chairs' wide range of available fabrics, and have been chosen to enhance their aesthetics and functionality
30.10.2020
Claudio Feltrin becomes the new President of FederlegnoArredo
Claudio Feltrin, 2020
ph Giovanni Gastel
The general assembly of FederlegnoArredo elected Claudio Feltrin as President of FederlegnoArredo.
21.10.2020
Arper for Triennale Education
Arper furnishes the Education Area of Triennale Milano
ph Gianluca Di Ioia
17.09.2020
Back to our spaces with Arper
Smart and sustainable solutions for waiting areas, lounge rooms, meeting spaces, offices with Arper collections.
01.07.2020
Back to school with Arper
Cila Go by Arper. design Lievore Altherr
ph Marco Covi
Cila Go by Arper: an efficient solution for social distancing at school.
17.06.2020
Arper presents Virtual Spaces
Arper Virtual Spaces
Arper launches virtual Spaces, a digital experience for the exploration of five lounge spaces that interpret the new 2020 collections.
04.06.2020
Adell by Arper: a "green" lounge
Adell by Arper, design Lievore + Altherr Désile Park, 2020
ph Salva Lopez
Adell by Arper, the new lounge chair with a green DNA, suitable for indoor and outdoor use.
13.05.2020
Arper presents Aston Club, design Jean-Marie Massaud
Aston Club by Arper, design Jean -Marie Massaud
ph Salva Lopez
Space to think, space to dream, attention to sustainability. Aston Club, design by Jean-Marie Massaud, offers sumptuous comfort within a striking and elegant gesture. Its strong and classical lines convey an enduring allure.
05.04.2020
RIP Luigi Feltrin, founder of Arper
Luigi Feltrin, Honorary Chairmanship of Arper
ph Giovanni Gastel
RIP Mr Luigi, the founder of Arper in 1989 with his sons Claudio and Mauro.
04.02.2020
Arper's sustainability at Stockholm 2020
Arper at Stockholm Furniture Fair 2020
During the opening day of the Stockholm Furniture Fair Claudio Feltrin, Arper's president, will present the new "recycled" collections and the sustainability actions of the company. February 4th, h. 10-11 am | booth A13:20
11.12.19
Arper Xmas event 2019
For a Softer 2020 with Arper.
03.10.19
Arper's sustainability awarded by FSC
Aava, design Antti Kotilainen by Arper
Arper has received the FSC Furniture Award - Special Environmental Sustainability Award, an important recognition of the environmental path that the company has been following for years. In addition to having obtained the FSC certification, Arper is the first company in Italy and the second in Europe to have obtained the "EPD environmental process certification" for the product category Seating and Furnishings.
10.07.19
Arper makes changes to its senior management team and corporate structure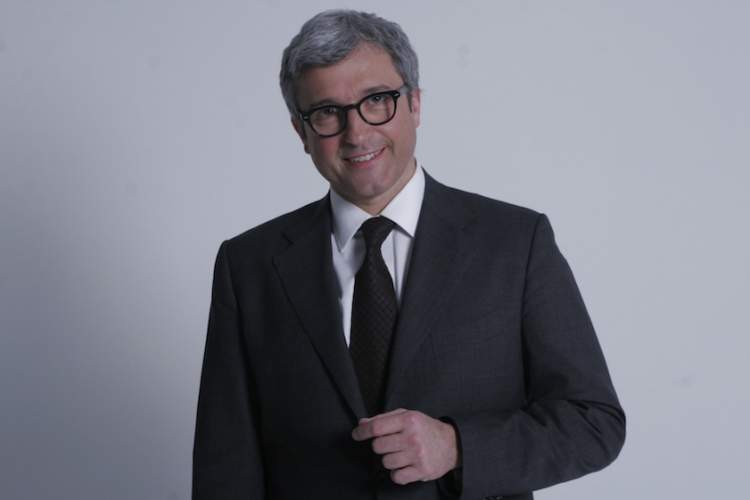 After many years of solid growth at an international level, under the leadership of President Claudio Feltrin, Marco's S.r.l. - Holding of the Feltrin family and parent company of Arper S.p.A. - launched the reorganization of the control chain and the governance of the Group. As of July 8th, the responsibility of managing Arper S.p.A. is assigned to Armin Broger, appointed as CEO.
19.06.19
Il nuovo paesaggio del lavoro
Arper Copernico invitation
A talk born from the collaboration between Arper, Copernico, BNL to present the research by Carlo Ratti Associati about the evolution of the workplaces. Discussion with: Andrea Cassi - Partner Carlo Ratti Associati, Francesco Morace - Founder Future Concept Lab and Pietro Novelli - Director Italy Oliver James Associates, moderator Silvia Botti - Editor in Chief Abitare magazine. 7.00 pm, Copernico ClubHouse Brera Milan.
04.06.19
Catifa 46 for Cuckooz Nest
Cuckooz Nest, London
ph Billy Bolton
Cuckooz Nest is a hybrid workspace in London that unites under the same roof a fully flexible Ofsted-registered nursery and an integrated workspace for parents and children under two. Arper Catifa 46 chairs were selected as part of the design for the main co-working space area, creating a soft, human-centred atmosphere while promoting collaboration, creativity and productivity.
09-14.04.19
Arper at Salone del Mobile.Milano 2019
Arper takes part in the 58th edition of the Salone del Mobile. New collections and iconic products will be presented in the exhibition space at Pavilion 16 (booth C31 D30).
05-09.02.2019
Arper at Stockholm Furniture&Light Fair
Arper interprets current trends in working models and takes part in the Stockholm Furniture&Light Fair 2019 presenting both new products and iconic collections. (Stand A13:20)
01.01.2019
Arper's products for the new Library in Helsinki
Oodi Library in Helsinki, project by ALA Architects
ph Tuomas Uusheimo Photography
Arper collections furnish Oodi, a new library recently inaugurated in the heart of Helsinki and designed by the Finnish firm ALA Architects. Arper collections interact with the surrounding architecture and blend in seamlessly with the different areas. Arper's know-how is once again employed by international A&D professionals.
14-20.01.2019
Arper at Design Post
During IMM Arper looks forward to welcome visitors at its permanent exhibition at Design Post. Cila Go and Stacy, the latest collections launched at Orgatec 2018, will be displayed. To enhance the experience, join Arper at the Architect tour with Arper and DP Partners. "Customizing: We can do it differently": Kerstin Seegel from Arper will introduce a look behind the scenes and projects Tuesday 15th January from 11:20 to 11:45.
23-27.10.2018
Arper at Orgatec Colonia
Exhibit design Studio MAIO
ph Constantin Meyer
Arper interprets contemporary work topics, which evolve with society together with technological and scientific progress, and responds to these new issues by developing, for Orgatec 2018, the concept of "lifelong learning" (Hall. 10.2, Stand J019-K018).
15.10.2018
ADI awards
Arper innovation
Exhibit design Studio MAIO
ph Jose Hevi/MAIO
The Arper booth project, designed by MAIO Architects with con Jeannette Altherr and presented at the Salone Internazionale del Mobile 2017, has been selected in the publication ADI Design Index 2018: a profoundly innovative approach to create an exhibit space that best represents the interaction between architecture and Arper's collection.
06.09.2018
Arper Showroom
opens in Los Angeles
Showroom design Solveig Fernlund, Jeannette Altherr
ph Tessa Neusdat
Arper announces the opening of a new showroom in Downtown Los Angeles. This is the Italian design brand's third location in the U.S. and 12th globally and houses Arper's range of furnishings. The aim of the project is to create a variation of spaces that would maximize the experience and presentation of the furniture.
Arper is a leading Italian company that creates chairs, tables, and furnishings for community, office and home. Founded in 1989, it distinguished itself from the very start for its global vision that translates into innovative products and state-of-the-art processes. Arper has always relied on the collaboration of international designers, who have helped to define its identity, drawing inspiration from all over the world.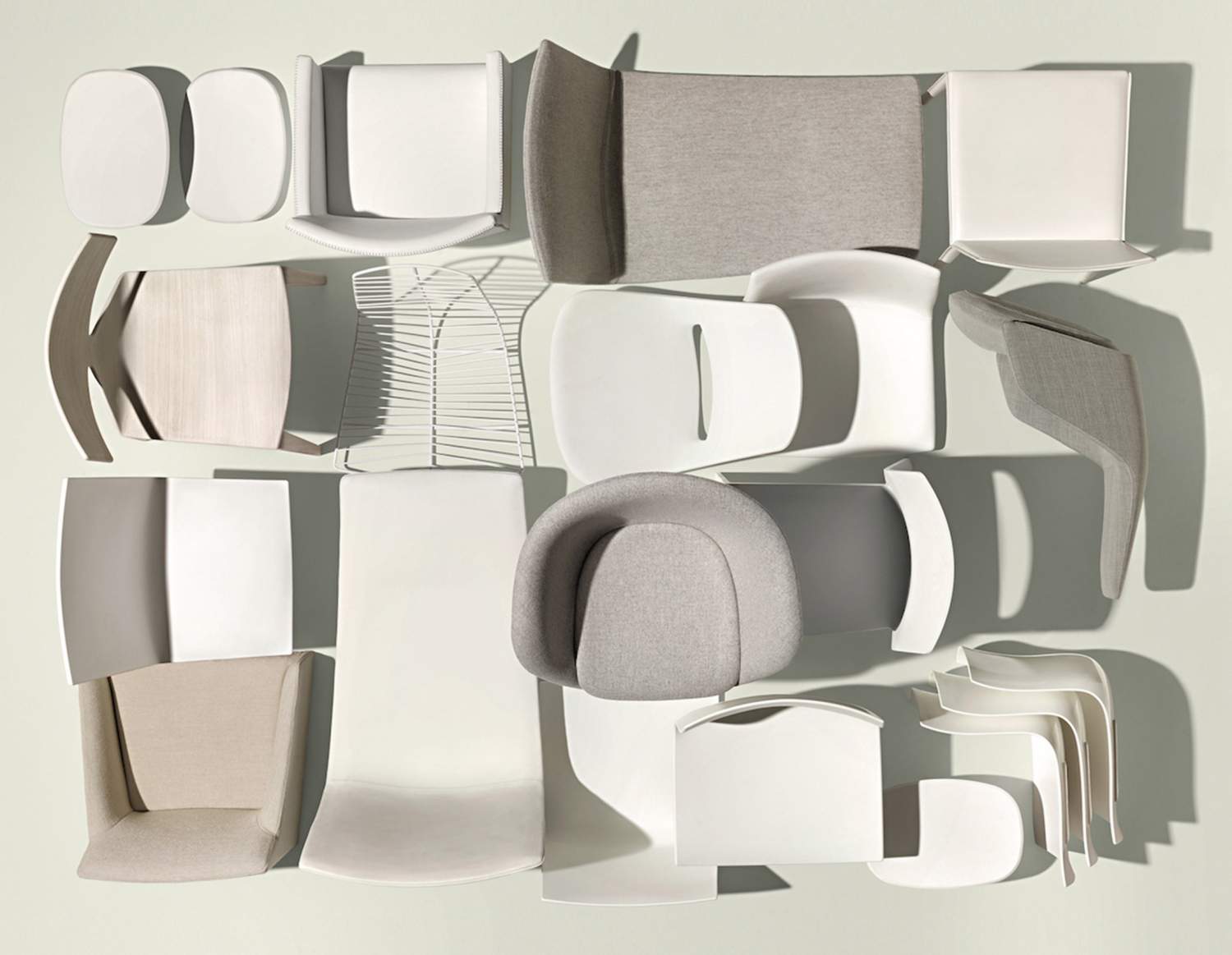 System shells
ph Scheltens & Abbenes
Arper's focus is mainly on the contract sector, with products targeted for different uses and market segments: the brand approaches design as a means of action and communication, expresses itself through its attention to color and system flexibility, in a constant dialogue between form and function. Today Arper has 12 showrooms, 4 subsidiaries, 3 branches and 2 Meeting Hubs, located in the major markets throughout the world, and is distributed in 90 different countries across a far-reaching network.
ph Alga Studio
ph Salva Lopez
ph Salva Lopez
ph RNDR
ph AlgaStudio
ph Frederik Vercruysse
ph Giulio Rojer Ghirardi
ph Marco Covi
ph Marco Covi
ph Marco Covi
ph Marco Covi
ph Marco Covi
ph Marco Covi
ph Marco Covi
ph Marco Covi