La cultura della luce come elemento di innovazione sociale è l'elemento distintivo di iGuzzini, che da più di sessant'anni collabora con i migliori architetti, lighting designer e studi di ingegneria per realizzare progetti di illuminazione innovativi e performanti, in grado di valorizzare architetture e spazi.
iGuzzini illuminazione S.p.A
Via Mariano Guzzini 37
62019 Recanati (MC)
www.iguzzini.com
17.11.2022
iGuzzini lights up the London underground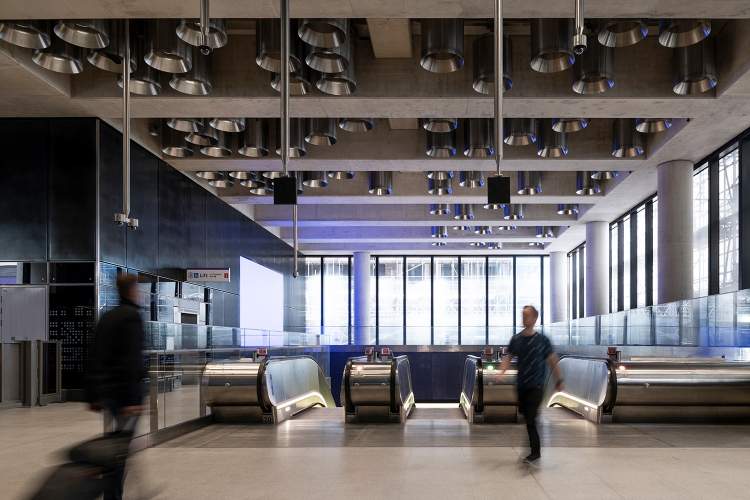 Tottenham Court Road Station, London
iGuzzini is the lighting partner for the Hawkins/Brown project for the redevelopment of Tottenham Court Road station in London.
14.11.2022
IGUZZINI in ADI Design Index 2022
Agorà, design Jean-Michel Wilmotte
iGuzzini's lighting systems Agorà and Light Shed 60 have been selected in the ADI Design Index 2022 and run for the next Compasso d'Oro. The publication and the exhibition ADI Design Index 2022 were presented today in Milan at the ADI Design Museum. The exhibition will remain open until 27 November and then move to Rome at the Treccani Institute from 13 to 18 December.
29.09.2022
iGuzzini | Linealuce Mini 27R
Linealuce Mini 27R | design Jean-Michel Wilmotte
The Linealuce collection by iGuzzini, designed by Jean-Michel Wilmotte to promote maximum integration in architecture and space, evolves with a new miniature version at very high performance.
13.05.2022
Double award for iGuzzini
Light Shed | Design: iGuzzini
Light Shed by iGuzzini wins the if Design Award and the Red Dot Design Award for its quality of design, Innovation and sustainability. Awarded because it meets the criteria of "good design" promoted by both competitions, Light Shed expresses an intelligent and reliable design that combines idea, form, functionality and attention to the environmental impact, certified with the PEP Ecopassport.
iGuzzini illuminazione, fondata nel 1959, è un gruppo internazionale leader nel settore dell'illuminazione architetturale, con 1.243 dipendenti, che si dedica allo studio, al design e alla produzione di sistemi di illuminazione per interni ed esterni. iGuzzini opera per migliorare, con la luce, il rapporto tra l'uomo e l'ambiente attraverso la ricerca, l'industria, la tecnologia e la conoscenza, nei luoghi della cultura, del lavoro, del retail, delle città, delle infrastrutture e dell'hospitality & living.
Torre La Bella Vita | Taichung, Taiwan, 2021 | Progetto architettonico: Antonio Citterio Patricia Viel | ph: Millspace
Cultura della luce, design, connettività, sostenibilità: per iGuzzini la luce permette di creare luoghi più sicuri, aggreganti, confortevoli, e determina l'umore delle persone, i colori e le forme della natura e delle opere d'arte.
ph Miro Zagnoli
ph Miro Zagnoli
ph Miro Zagnoli
ph Miro Zagnoli